A Unique Neighborhood Inside Our Home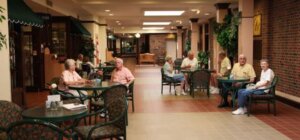 Welcome to Town Square, a beautiful feature of the Minnesota Masonic Home campus. With its full-service General Store with diner, Game Room, Exercise Facility, Beauty/Barber Shop and Promenade, Town Square makes our residents, patients and guests feel right at home.
For more information, view our Frequently Asked Questions (FAQ) page or call us at 952-948-7915.