History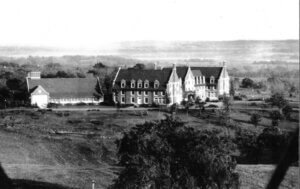 From its beginning in 1918 with the purchase of a 271-acre estate owned by Marion W. Savage, into the 21st century with its continuum of care community, Minnesota Masonic Home has provided a beautiful and comforting home to thousands of senior citizens in Minnesota.
The 1927 dedication for the new Main Guest Lodge, adjoining dining hall and powerplant buildings was attended by some 5,000 Masons and Members of the Eastern Star. In 1940 the infirmary was completed to respond to the increasing need for medical care among residents. Until 1954, the Home was supported by a fully functioning farm that included animals, fruit orchards and vegetable gardens.
The Order of the Eastern Star Chapel was added in 1968 to accommodate the important spiritual needs of the community. In 1967, the Care Center was added to the campus as residents began to require more skilled nursing services.
Along the way, many supplemental features of this sprawling 80-acre property have been introduced, including a cluster of single-level rental townhomes where residents experience maintenance-free, independent living in an idyllic setting along the banks of the Minnesota River.