Who is Your Champion?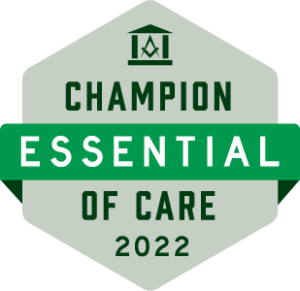 Masonic Home recognizes that it takes a special person to care for another. The leadership team does not take this lightly. It is our hope that caregivers and staff at Minnesota Masonic Home continue to feel valued for the kindness and love that they show both residents and their families.
We provide an opportunity for individuals to nominate an outstanding individual through our Champions of Care program.
Located in multiple spots within the care center are Champions of Care stations with nomination forms that can be delivered to a number of drop boxes placed throughout the campus.
When someone is nominated as a Champion, each person is provided with a certificate and an enamel pin as recognition. It is well known that staff are thrilled to collect these pins and wear them as badges of honor.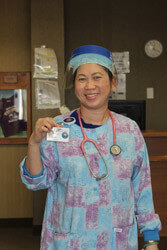 After a brief hiatus in 2021, we are resuming our Champion on Champions in 2022! Every quarter a committee selects five to 10 of the monthly nominees and votes one staff member to be a Champion of Champion, and they receive a larger certificate signed by President and CEO Eric J. Neetenbeek and a gift card.
We encourage EVERYONE who has encountered an exceptional staff person to take a moment and acknowledge the kindness and love they've shown you, and allow that person to be lifted up by your appreciation.
If you would like to nominate someone and would like an envelope mailed to you or to submit your nomination via email, please reach out to lauren.hauter@mnmasonic.org.